This statistic represents the major exporting countries of steel scrap in 2018, ranked by export volume. With steel scrap exports amounting to approximately 5.5 million metric tons, Russia was ranked as the fourth largest exporter of steel scrap worldwide.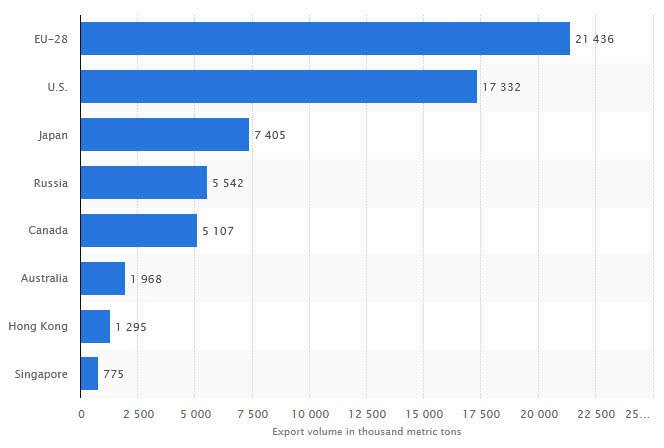 Steel is one of the most extensively applied materials in the construction sector and in the manufacture of transportation equipment. Increased demand from companies in these industries continues to drive prices higher. Therefore, steel is simply too lucrative to be allowed to go to waste. As with many metals, the commodity can be recycled and reused. In order to cut costs, the steel industry has taken to collecting scrap from waste streams, wrecked automobiles, dismantled buildings or other industrial sources, after which it is melted into new products. The use of recycled materials also provides environmental benefits such as energy savings and a reduced amount of materials in the municipal solid waste stream. In the United States, more than 90 percent of recycled metals are in fact steel.
The United States was ranked as the second largest steel scrap exporter in 2018. That year, the largest share of U.S. steel exports went to Mexico. With steel scrap imports of about 21 million metric tons, Turkey was the leading steel scrap importing country worldwide.